Vingerkraal is a rural South Africa community located 45km from Bela Bela in the Limpopo province.
It is a community of 1,000 people that developed from displaced war veterans and their families.
Numerous struggles and tragedies have not diminished their desire to learn the skills they can use to create sustainability for themselves and future generations.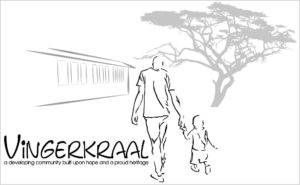 Their community identity is expressed in the logo they created that illustrates their history and dreams for the future. The leadership committee has formed 4 sub-committees: educational, vocational, spiritual, community that has become a model for community development in other locations. A specific example of this is the community map and census they created to assist in development.
In the Vingerkraal community, educational development has taken the form of:
School Art Class and photography club
Partnership with Creighton University Blue Box program
Mommy School
Winter School
Creation of a community training and development center
Financial Literacy
Adult Literacy
In the Vingerkraal community, vocational development has taken the form of:
Teaching construction skills
Teaching audio visual creation skills
In the Vingerkraal community, spiritual development has taken the form of:
Pastors school
Community Sunday school
In the Vingerkraal community, community development has taken the form of:
Cemetery restoration
Borehole installation
Rubbish pickup
Creating documentary about community history